SPRING TIME IS HERE
Time to get out on the open roads and get some miles in the bag. La Marmotte Alpes is a 8-11 hours race and while you do not have to simulate the hours, it is a good idea to build up endurance by doing longer and longer (time-wise) rides up to 5-6 hours.
Follow the progress of our users in the Progress Table here. Also find the updated training programs here.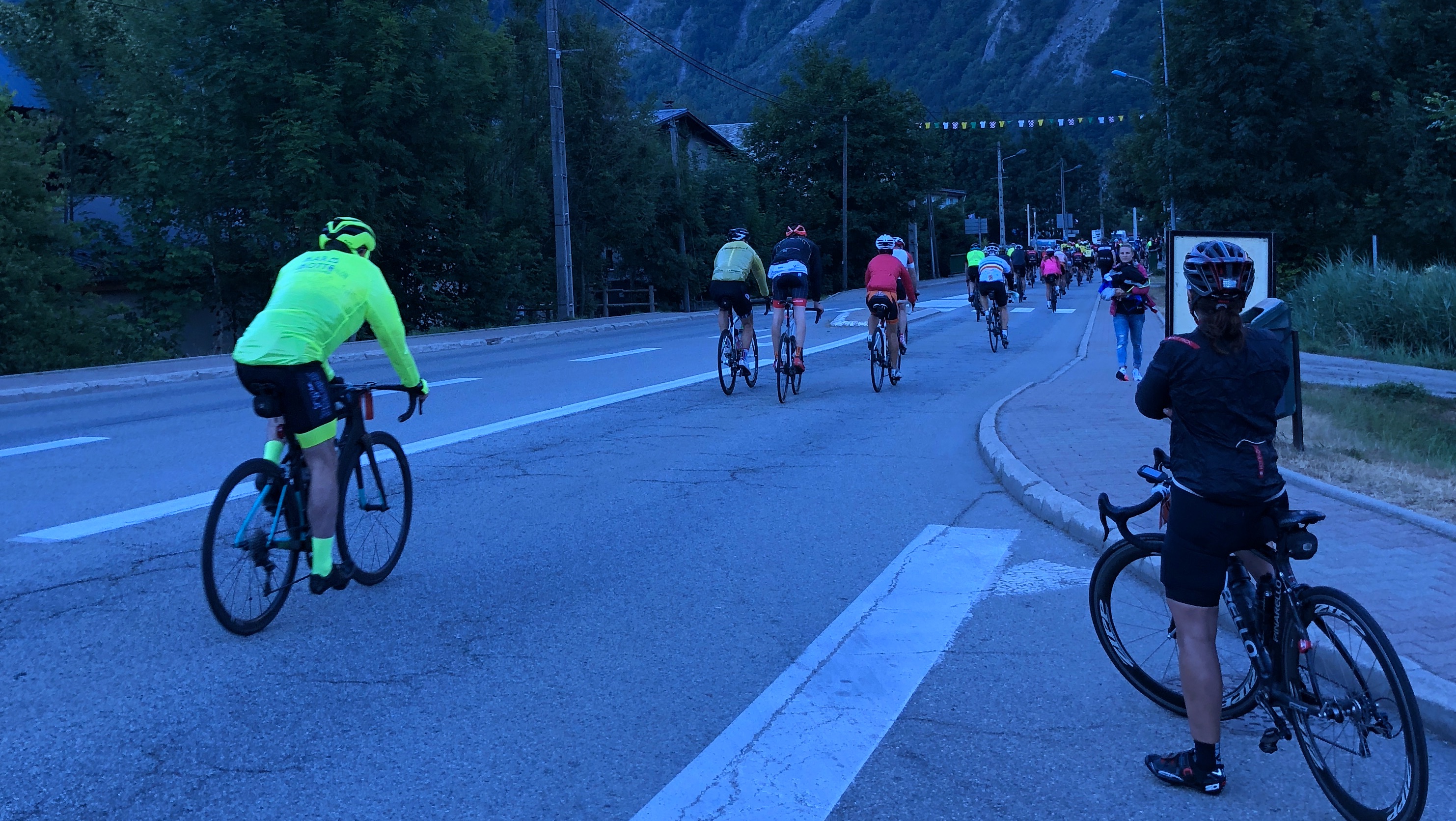 TO THE FINISH LINE
By the time you reach the top of Col du Galibier, you will be very tired. Chances are your legs will cramp, you will feel hungry but have a hard time digesting anything and you will walk around feeling dizzy. The good news is that you are about to start a massive 48 kilometers descent to Le Bourg d'Oisans, by the foot of Alpe d'Huez. 
In general, La Marmotte consists of four main segments:
Part 1: Le-Bourg-d'Oisans to Col du Glandon (40 km)
Part 2: Col du Glandon to Col du Telegraphe (45 km)
Part 3: Col du Telegraphe to Col du Galibier (23 km)
Part 4: Col du Galibier to L'Alpe d'Huez (66 km)
CONCENTRATE
The whole concept of getting a 70-90 minutes break from pedalling and climbing is, at this point, the best value proposition in the world. Beware of not taking chances. You are tired and small mistakes can have a huge impact on the descent. 
I cannot remember a more scenic view than the one you get from Galibier through Col du Lautaret and further down to the small town of La Grave. It is amazing. Particularly the La Meije gletscher. The first 20 kilometers of the descent requires nothing but concentration. After that, it will be more hilly, but still mostly descending. Groups will establish themselves and split again. 
Lessons learned from LM18: It was hard to eat anything at the top of Galibier. I wish I had filled my pockets with food and salty crackers, and eaten it on the easier parts of the descent. Do not follow groups that are way quicker than you. Save your energy for the last climb. You will need it.
You have done about 48-50 kilometers of climbing to get to the last climb. Only 13 kilometers left. That is a great motivation. To be honest, it is a brutal climb to finish with. While the first 2.5 kilometers to La Garde are very steep (10% average,) at least they are done with some enthusiasm. It is the boring middle section that is mentally tough and in the baking sun, you will appreciate any wind; even a strong headwind.
The good news is that you will not experience any sudden attacks from the peloton. Everybody are as cooked as you. After 12 kilometers you will get to the tourist finish line and get a very short break. From there, you know you made it. The ride through the town to the finish line is a formality and crossing the line is a proud moment.  
Lessons learned from LM18: Fill your bottles with pure water at the feed zone by the foot of Alpe d'Huez. I went for energy drinks and my stomache hated me all the way up. Moreover I needed water to cool my self down in the sun, but did not have any.
The Alpe d'Huez climb is available on Bkool for home trainers.

TOP 25 OVER THE BEST DEUX MILLE CLIMBS There are spectacular ones, there are tough ones and there are legendary ones. We have asked notable members to populate their list of best Deux Mille climbs, taking everything into consideration. Without further ado, here is the...